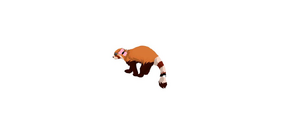 Brianna is a red panda.
Appearance
Edit
She has a red face and ringed tail like most Red Pandas. She also has her butterfly clip and a Yin-Yang tail ring.
Personality
Edit
She looks innocent but BEWARE! She has a deadly inner warrior! Neverless, she is kind.
Weaknesses
Edit
If too many lights are on, her shadow can be seen.
Her psychic powers don't work on characters wearing hats.
People with life energy tracking powers, such as Cynthia can track her.
Abilities
Edit